Set up email using the iOS Mail app
Note: If you have your "@fairfieldschool.org" account already added to your device you will need to first delete it.
Click here for instructions
Step 1
Go to your iPhone or iPad's Settings > scroll down and tap Accounts & Passwords > Add Account.
Note: If you're on iOS 10, go to Mail > Accounts >Add Account.
Step 2
Select Exchange.
Step 3
Enter your District email address and add a description of your account. Tap Next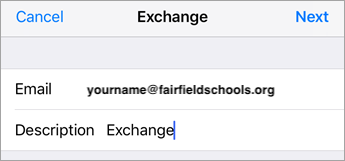 Tap Sign In.